"You don't know what you're missing. I'm a pop star! I have a big cock!"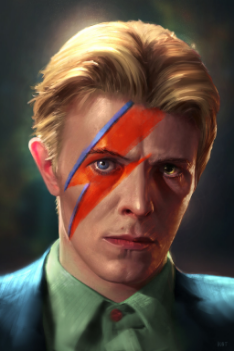 Look, I'm not just saying this because this article is about him, but when people will think back to the greats of the 20th century they will think of people like Tim Berners-Lee, Albert Einstein, Martin Luther King Jr. and David Bowie. I can't be the only Sunny Jim who thinks that, right?
David Bowie is seen as a god-like man and that's for no reason, his music has influenced many people and that's because it fucking rocks.
Born David Robert Jones on the 8th of January 1947 he is a musician, actor, record producer and arranger who first made it big with 1969's Space Oddity. A song about fictional spaceman by the name of Major Tom. The character, much like Bowie himself evolved throughout his career. Major Tom's first appearance was in the aforementioned Space Oddity where Tom is seen as an astronaut who casually slips the bonds of the world to journey beyond the stars.
In 1980 he makes his second comeback but he is remade into an oblique autobiographical symbol for himself. Major Tom is described as a "junkie, strung out in heavens high, hitting an all-time low". This lyric was interpreted as a play on the title of Bowie's album Low (1977), which charted his withdrawal following his drug abuse in the United States. Additionally, the choked and self-recriminating tone used in the lyrics "Time and again I tell myself I'll stay clean tonight." reinforces an autobiographical and retrospective interpretation.
A short time later, there is another reversal of Major Tom's original withdrawal, turning 'outwards' or towards space
Tom would sort of make his last appearance in ★ first track. I say sort of as the director Johan Renck has refused to confirm or deny that the astronaut in the video was Major Tom.
In this video, it shows Tom's final end. A dead man lost in space.
In his later life, most of his work was seen to be a gift from the gods, hell, David himself seemed to be a god-like human. This is why his death was such a shock to us all, David Bowie was a person who was too good for death. Everyone was in shock. The 10th of January was a weird one. I first learned of his death when my Mum woke me up saying "David Bowie has died". It was hard to believe that he could ever die. For the rest of the day, all I did was lay on a sofa listening to 6 Music on the radio.
It's a shock when not even the DJs know if it's a dream or not.
I've lived throw other famous people's deaths like Michael Jackson in 2009, but nothing was quite as surreal as Bowie's death.
How could he die? If you told me on New Years Day 2016 that Bowie would die soon, I would have told you to piss off, he could never die. He is a type of person to not die, but be summoned by a spaceship or something, not die of liver cancer.
If you're sad today, just remember the world is over 4 billion years old and you somehow managed to exist at the same time as David Bowie.

Simon Pegg
---
References

I.
The Amazing Bowie Painting
http://weaponmasscreation.deviantart.com/art/Goodbye-Starman-David-Bowie-584503302

II.
Wikipedia on Major Tom
https://en.wikipedia.org/wiki/Major_Tom

III.
David Bowie Biography
https://web.archive.org/web/20100116124051/http://www.biographyonline.net/music/david-bowie.html

Written by Clive "James" Python, 30/01/17.

https://owlman.neocities.org/library/★
https://owlman.neocities.org/library/%E2%98%85/
https://owlman.neocities.org/library/bowie.html
https://web.archive.org/web/20170219030544/https://owlman.neocities.org/library/bowie.html
★