Adolf Hitler is most know for being the leader of Nazi Germany, and planting the seed that would set off the bloody Second World War, killing millions of people in the process. What he is less know for is perhaps his love of art, and painting. Hitler produced hundreds of works (approximately 2,000 works have been said to have painted), and sold his paintings, and postcards to try to earn a living during his Vienna years (1908-13). A number of his artwork were recovered after the Second World War, and have been sold at auctions for tens of thousands of Pounds, with this, some of his art was seized by the U.S. Army after the war, and are even to this day, still held by the American government (as seen with the photo on the right), however, the majority of his work reportedly didn't survive the Second World War.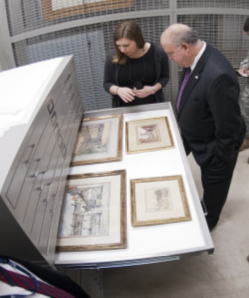 How much of his art was lost will probably never be truly released.
Unlike most artists, Hitler did not let his own style grow over time, but instead opt in coping artists of the nineteenth century, and many of the masters preceding him. He claimed this to be the synthesis of many artistic movements, but it is quite clear that this is simply not true, and he did in fact have a large influence from Greco-Roman classicism, the Italian Renaissance and Neoclassicism. He liked the technical ability of these artists, as well as the understandable symbolism.
It would seem that he would be inspired the most by Austrian landscape, and architectural painter Rudolf von Alt, going as far, and calling him his greatest "teacher". Both of the men use colour in a similar way, along with what the subject of the painting is about; however, in many of Rudolf von Alt art, he uses a fantastical landscapes giving equal-if not more-attention to nature, and the surrounding environment than the architecture - Thanks, Wikipedia!
Ardoyes in Flandern (Ardoye in Flandern, 27 June 1917)
Drawing of what appears to be a church. This was made at the same time he was a front-line soldier for the German army.

This has nothing to do with the art but it's still interesting, so according to a 1924 report by the Bavarian authorities, allowing Hitler to serve was almost certainly an administrative error, since as an Austrian citizen, he should have been returned to Austria.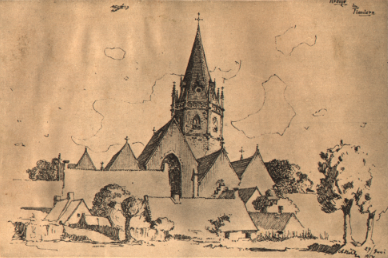 House with a White Fence (Haus mit weißem Zaun, c. 1915-17)
Watercolour painting of the front-line during the First World War. As this painting has no date, it is hard to tell when it was made, Wikimedia says c. 1917, while The German Propaganda Archive says 1915.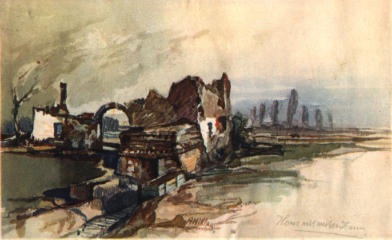 Hofbräuhaus (19??)
Painting Hitler did of Hofbräuhaus, München, that is located at Am Platzl in München, a beer hall that dates back to the 16th century.
By comparing it to this picture taken in 2012 you can see how it has changed over the years.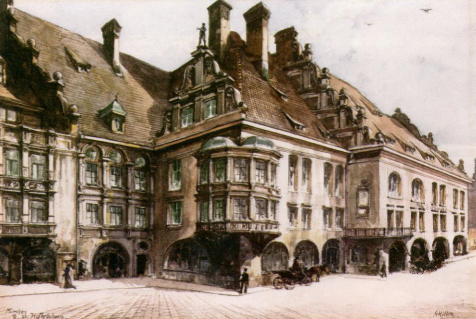 Ruin of a Monastery in Mesen (Klosterruine in Messines, Dezember 1914)
Much like a lot of his work, we really don't know much about this painting, apart from its location and who it is by.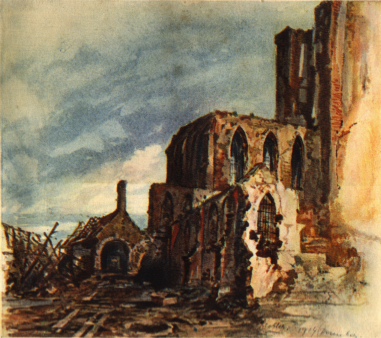 Nude woman (1929)
Not much is known about these four drawings of a naked woman. We don't know who the woman is, or even if she's real. From looking at drawings one could guess that they were made at the same time.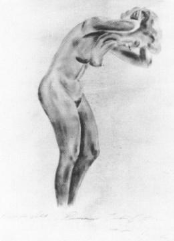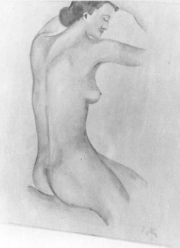 Schloss Belvedere (19??)
Painting Hitler did of Schloss Belvedere in Wien. As you may have guessed, not much is known about this painting apart from it's location and who made it. By looking at this photo taken in September of 2012 we can easily tell how Schloss Belvedere in Austria has evolved over the years since Hitler visited it.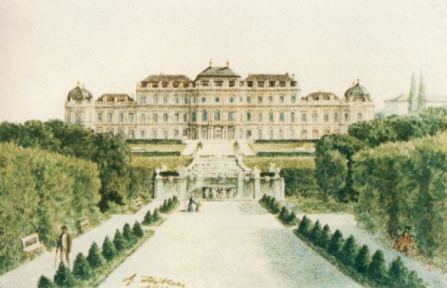 Selbstporträt (1926)
From looking at the title of this alone you will easily be able to guess what it means ("Self-portrait" for the slow). According to Spiegel Online, this sketch was auctioned in August of 2009 for the pretty penny of £12,300.
As seen in this drawing, Hitler is seen with his trademark toothbrush moustache. The toothbrush moustache style first took off and became popular in the United States in the late 19th century, from where it grew to Germany and elsewhere. The style would reach its height of popularity in the inter-war years before becoming unfashionable after World War II due to its association with Hitler.
Icon Charlie Chaplin would become one of the most famous uses of this style, adopting it sometime after 1914 for his role as the Tramp. In a 1933 interview Charlie Chaplin said that he had added the moustache to his Tramp charter because it had a comical appearance and was small enough so as not to hide his expression.
Standesamt München (late 1900s-early 1910s)
Watercolour Hitler did of Munich town hall, capital and the most populated city in the German state of Bavaria. By comparing it to this photo taken in 1900 we can see that Hitler did an alright job at painting. The original size of the work was 28 CM high with a width of 22 CM.
As reported by The New York Times in November 2014, Standesamt München was sold in a German auction house for around $161,000 or €130,000.
The article goes on to explain how the fate of the painting was made-
The painting [...] was purchased by a private buyer from the Middle East who attended the sale at Weidler auction house in Nuremberg, auctioneer Kathrin Weidler told Reuters. She did not give the buyer's name.

[...]

[The painting] was sold by two unidentified German sisters in their 70s whose grandfather bought the work in 1916. The women plan to donate about 10 percent of the sale to a charity for disabled children, Ms. Weidler said.

The auction house estimates the work is one of about 2,000 paintings Hitler created between 1905 and 1920 when he was a struggling artist in Vienna.

The relatively high price of [the] painting, which was originally expected to fetch about $60,000, is mostly likely because, unlike many paintings thought to be by Hitler, it came with a bill of sale, Ms. Weidler told Reuters. It also included a letter signed by Hitler's adjutant, Albert Bormann, apparently answering an inquiry from the Nazi-era owner about the painting's authenticity. "What I can make out from the photograph that you sent in, it appears to actually be a work by the Führer," Bormann wrote.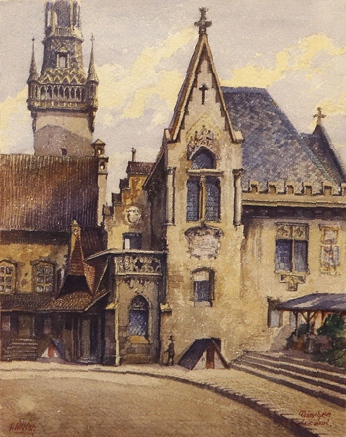 Unterstand in Fournes (1915-1917)
Drawing of an old house, perhaps even a farm house. This was made when Hitler was a front-line soldier.
It's hard to tell when this was made, The German Propaganda Archive says 1915, however Wikimedia says it was made c. 1917.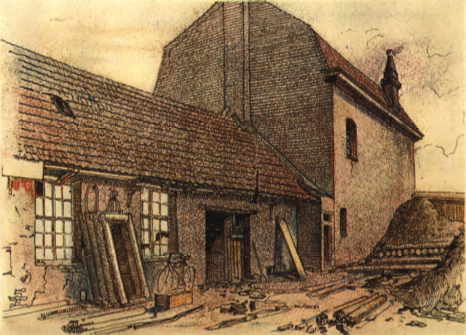 Vienna State Opera House (1912)
Painting of The Vienna State Opera, an Austrian opera house and opera company based in Vienna.
Thanks to this photo taken in 2008 we can see how The Vienna State Opera has changed over the years.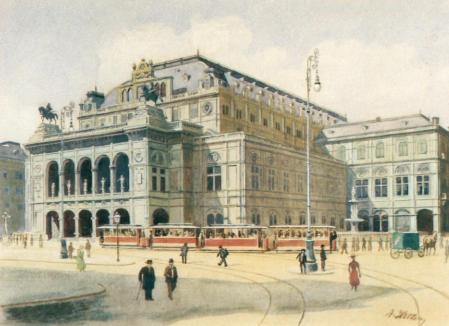 The Courtyard of the Old Residency in Munich (Der Alte Hof in München, 1914)
Watercolour painting of The Alter Hof (Old Court) in the center of Munich. This painting is of the Alter Hof, a stone quad in front of a large manor. Alter Hof is located in Munich, the capital and the most populated city in the German state of Bavaria.
This painting and a few others are currently owned and archived in the basement of the Army Center of Military History in Washington, D.C., they are yet to be shown to the public due to their controversial nature.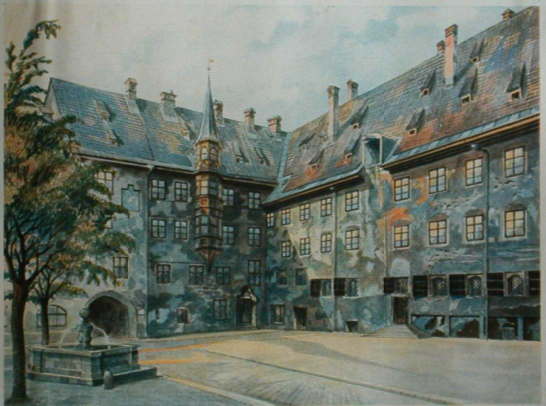 Tree at a Track (Baum am Weg eines Sees, 1911)
In this painting, Hitler painted a tree that stands near the end of a woody track. Not really much is known about this, painting, but according to its Wikimedia page it was made by ex-Wikimedia user Jansiemering and first published on the 25th of July 2017, so in other words, Hitler was reincarnated as ex-Wikimedia user Jansiemering.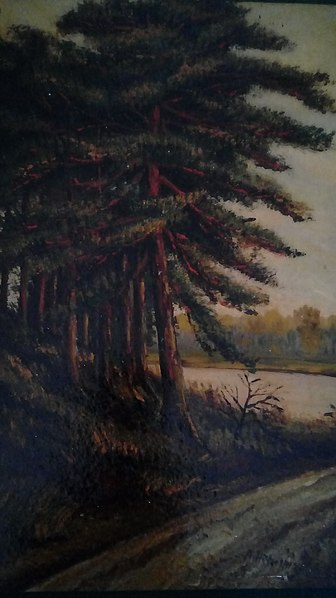 Vase With Flowers (Vase mit Blumen, c. 1912)
Stil-life painting of a blue jug with a bunch of flowers inside of it, this painting is somewhat unusual, as at this time, Hitler was mostly focusing more on landscapes and architecture. The painting is 34.3cm by 27.3cm.
This painting was put on auction at the Nate D Sanders auction house on the 26th of March 2015, its starting price was $30,000 (or £20,000), as expected the painting was sold and is now in the hands of a private collector.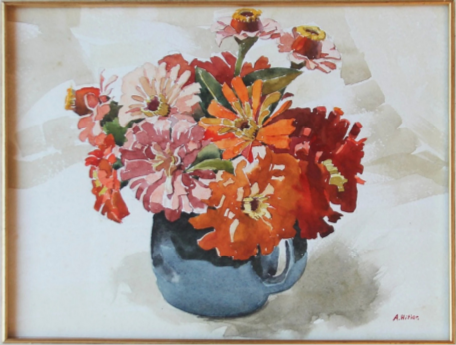 House of Dr. Bloch (8th of May 1913)
Without context, this is just another painting by Hitler, however, with context this is quite a queer painting.
This painting is of the house of Doctor Eduard Bloch, who until 1907 Bloch was the physician of the Hitler family. Adolf was the first Hitler family member to have been seen by Bloch in 1904 when he became seriously ill and was bedridden due to a serious lung ailment. Due to this, 15-year-old Adolf was allowed to abandon his school career and return back home. However, after checking Adolf Hitler's files Bloch later maintained that he had treated the youth for only minor ailments, cold or tonsilitis and that Hitler had been neither robust nor sickly. He also stated that Hitler did not have any illness whatsoever, let alone a lung disease.
What is even more interesting about this is a part of information you have yet been told: Eduard Bloch was a Jew.
After nazi Germany's annexation of Austria in March 1938, life for Austrian Jews became much harder. After Dr. Bloch's medical practice was closed on the 1st of October 1938, his daughter and son-in-law, Bloch's young colleague Dr. Franz Kren (born 1893 in Austria, died 1976 in the US), emigrated overseas.
The then 66-year-old Bloch wrote a letter to Hitler asking for his help, because of the letter, he was put under special protection by the Gestapo. He was one of only a few Jews in Linz with this status. He would stay in his house with his wife until they both moved to the United States. Without any interference from the authorities, they were able to sell their family home at market value, highly unusual with the distress sales of emigrating Jews at the time. Moreover, they were allowed to take the equivalent of 16 Reichsmark out of the country; the usual amount allowed to Jews was a mere 10 Reichsmark.
In 1940, Bloch emigrated to the US and settled in the Bronx, 2755 Creston Avenue, New York City but was no longer able to practice medicine as his medical degree from Austria-Hungary was not recognized. Dr. Bloch would die in 1975 of stomach cancer at the age of 73, barely a month after Hitler's death. He is buried in Beth David Cemetery, Section D, Block 3, Elmont, New York.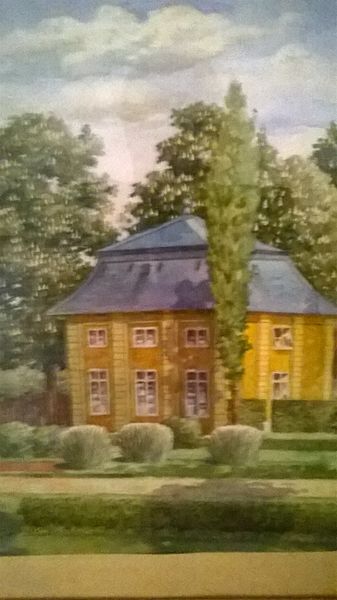 House by The Lake (Haus am See, 1910)
Painting of an unknown location that shows a calm scene of a house near a lake with mountains near the background. Just like Tree at a Track (Baum am Weg eines Sees, 1911), the Wikimedia page says it was made by Jansiemering.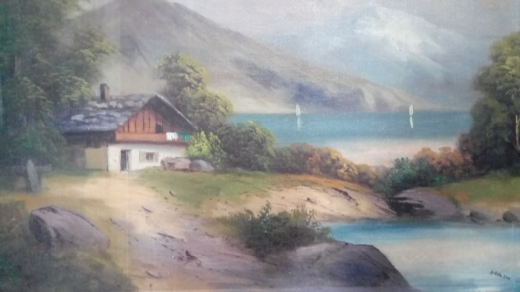 Mother Mary with the Holy Child Jesus Christ (1913)
The Virgin Mary is see holding her son, Jesus Christ in golden rays of light. Note that Jesus is not depicted in his usual brown haired way (or at least in his traditional Western image), but has blond hair; in other words Jesus looks like an Aryan (a term meaning people who have blond hair, are from European, and also have blue eyes, also known as the so-called "Master Race" that Hitler, and many others believe in).
Despite Jesus Christ being the King of the Jews (as referred in John 19:3, Then they said, "Hail, King of the Jews!" And they struck Him with their hands.), Hitler did not believe that Jesus was Jewish at all, and that he was a "Aryan fighter" who struggled against "the power and pretensions of the corrupt Pharisees".
It would seem that Hitler was apart of the Positive Christianity (German: Positives Christentum) movement. Positive Christianity differed from mainstream Christianity in that Positive Christianity:
Rejected the Jewish-written parts of the Bible (including the entire Old Testament)
Claimed "Aryanhood" and non-Jewishness for Christ
Promoted the political objective of national unity, to overcome confessional differences, to eliminate Catholicism, and to unite Protestantism into a single unitary Positive Christian church
If you wish to, you may read more about this bizarre movement over on its Wikipedia page.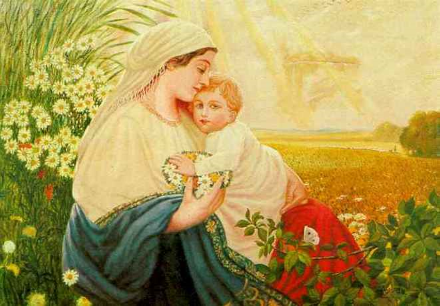 Carnations (1910)
A bunch of red and white flowers are seen on a boring plane white background. The painting sold in a 2015 auction.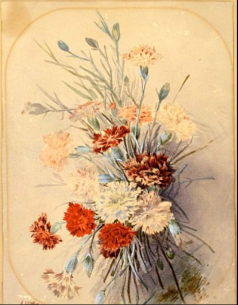 Flowers (1909)
Not much can be said on this painting apart from that it was made during the Vienna days.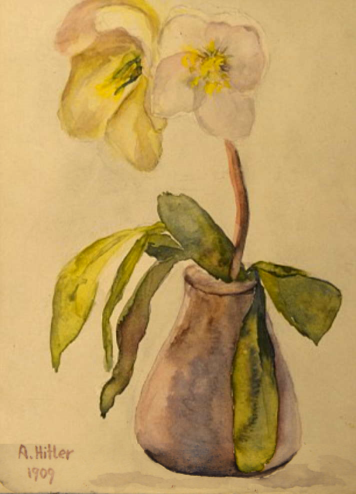 Prague in Fog (pre-1914)
Not much can be said on this painting apart from that it was made during the Vienna days. This painting was sold at Nuremberg-based Weidler Auction House fetching a total of €391,000 (nearly $450,000) on the 20th of June 2015.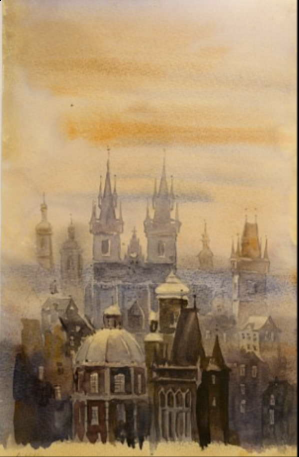 St. Charles's Church in Vienna (pre-1914)
Very low resolution image of St. Charles's Church in Vienna. Not much can be said on this image apart from it also shares the same name of the art as seen below it.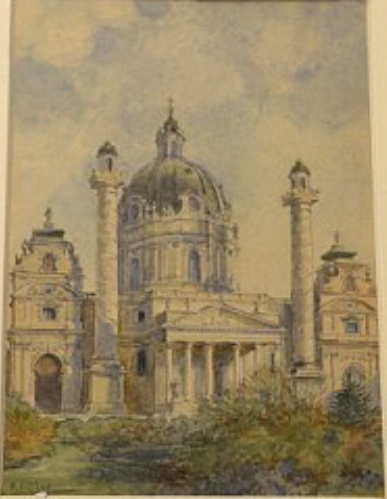 St. Charles's Church in Vienna (Karlskirche, 1912)
Watercolour of 18th-century Habsburg cathedral in the winter. This cathedral is still standing even today, you can view what it looks like now on Google Maps.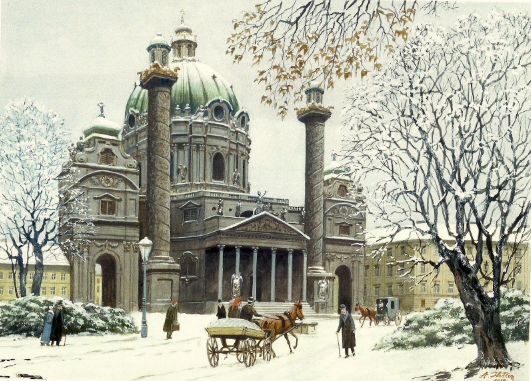 Fromelles (1915)
Painting of what looks to be a farmhouse with birds in the sky. If you look near the center right you can see that there is the Red Cross logo by a window, so this might have been a makeshift hospital.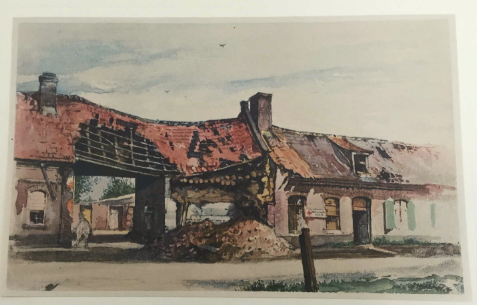 Haubourdin (15th of June 1916)
Painting of what is seemly a cottage, not much is known about this painting.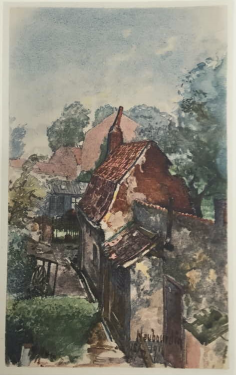 City Hall (19??)
Painting of the City Hall in Hildesheim, that is located in the city of Lower Saxony, Germany. This painting was found on The German Propaganda Archive who comment on this image by writing;
This makes me curious, as I don't think Hitler spent that much time [in Hildesheim]. I [used] the image with permission from a 2012 catalog from Alexander Autographs. They are confident that it is genuine. See their catalog for details.
On The German Propaganda Archive page, they also link to this image that shows what City Hall looked like in October or 2009, the photo is by Torbenbrinker.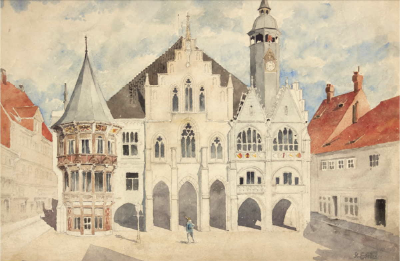 The Old Building in Stand of Trees (1909)
Painting of what seems to be a hotel or a manor, it's not quite clear.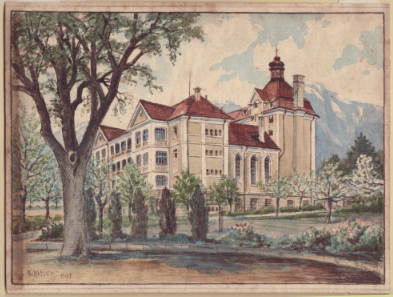 Self-portrait on a Stone Bridge (1910)
One of the only self-portraits Hitler made of himself. In this painting we can see the 21-year-old Hitler sitting down by a body of water.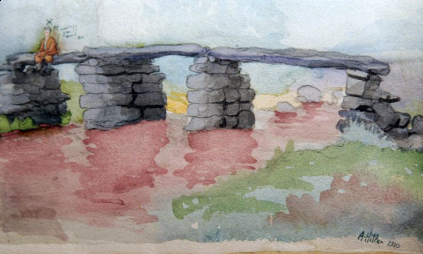 Maritime Nocturno (1913)
Painting of the sea in moonlight. According to the news website Emirates 24|7, this painting sold in 2012 at a Slovak auction website for €32,000 ($42,300).
The starting price for the painting titled Maritime Nocturno was set at 10,000 euros, while an expert put its value at 25,000 euros, said Darte, which sold the painting in a closed VIP auction.

[...]

"The painting has been offered for sale by an unnamed family of a Slovak painter who probably met Hitler personally when he was struggling to become an artist in Vienna during the early 20th century," Darte owner Jaroslav Krajnak said earlier.

"I look at him as an artist - in 1913, when Hitler painted this picture, he didn't know what would become of him in the decades to come," he added.

The auctioning house already sold a painting by Hitler from the same family collection last year for 10,200 euros.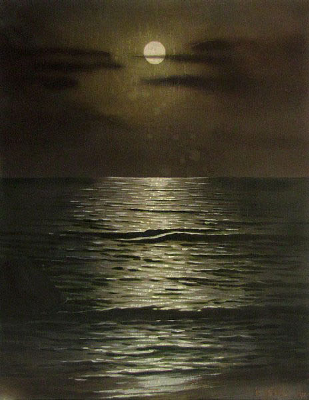 Neuschwanstein Castle (Schloss Neuschwanstein, c. 1914)
Unusually good watercolour by Hitler of the 19th-century Neuschwanstein Castle (German: Schloss Neuschwanstein) on a rugged hill above the village of Hohenschwangau near Füssen in southwest Bavaria, Germany.
If you wish, you can view more images of the castle via Wikimedia so you can see what it looks like now.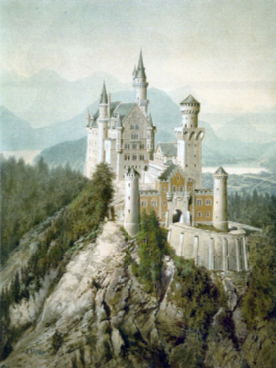 Neuschwanstein Castle (Schloss Neuschwanstein, c. 1904-1922)
What is annoying is that this painting also shares the same name with the painting of the same name, but unlike the name-sake, this painting depicts more of a grizzly environment to the viewer; the lush blue skys have been replaced with a mud-like sky, the virgin green trees have been removed in favour of dark green, almost as if it was night.
Despite this being a vile-looking painting, this artwork was picked up with the price of €391,000 (£280,000) at the Weidler auction house in Nuremberg in June 2015.
The story was picked up around the same time by Ben Knight, who works for the British daily newspaper, The Guardian, who wrote "Hitler's art of flowers and fairytale castles sells for £280,000 at auction", in the article Knight writes;
A view of Bavaria's famous fairytale castle Neuschwanstein brought the highest price of €100,000 (£71,500) at the auction on Saturday [the 20th of July 2015].

[...]

According to the Weidler auction house, the bidders were investors in China, France, Brazil, Germany and the United Arab Emirates. Auctioneer Kathrin Weidler told DPA news agency: "These collectors do not specialise in this painter, but have a general interest in high-value art."

There is no law against the sale of Hitler's art works in Germany as long as they do not show any Nazi symbols, but press commentators have questioned the morality of allowing such auctions to go ahead.

The Weidler auction house has previously defended the sale of Hitler's paintings on the grounds that they represented "historical documents". In November 2014, Weidler also sold Hitler's painting of a Munich register office for €130,000 – the high price was attributed to the original sales bill that came with it.

In 2009, Mullock's auction house in Shropshire sold 15 of Hitler's paintings for a total of £97,672.

Few in Germany want to be seen making a profit from the Nazi dictator's work. The Bavarian state archive, which owns some of Hitler's work, has a policy of not paying for the works, but accepts them as donations in order to take them out of circulation.

Last November [2014], the head of the auction house, Herbert Weidler, promised to give some of the proceeds of the sale of Hitler's Munich painting to charity, saying that if none accepted the offer, the local civic preservation society Altstadtfreunde Nürnberg ("Friends of the old city of Nuremberg") would be given the money.

The chairman of the society, Karl-Heinz Enderle, immediately expressed surprise at the presumption that he would accept the donation, and told local media that he had no intention of taking it.
Please note that this painting was edited so that the auction sticker with the numbers on has been removed. You can see it has been edited by zooming in on the top right corner.
Destroyed Tank (1916)
Painting showing what was a bloody war, but is now just an abandoned field.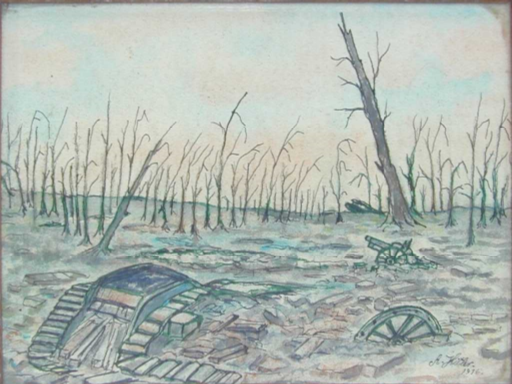 Road to No Man's Land (1916)
An okay at best painting depicting the unoccupied no man's land. Note that a lot of the objects are drawn poorly such as the tank and the boxes.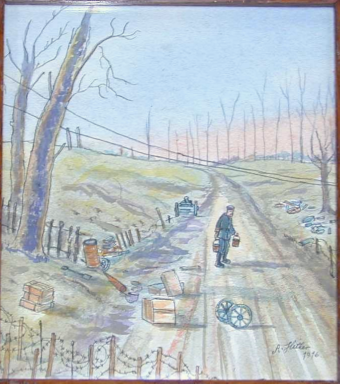 Smoking Tank (1916)
Nothing much can be said on this painting, the title says it all.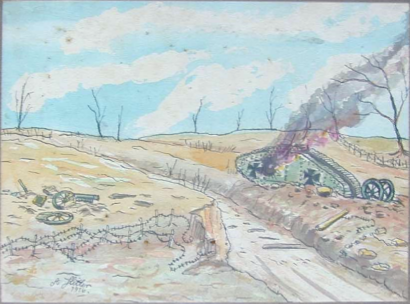 Tank Battleground (1916)
Two German tanks are seen resting in the pits of Hell.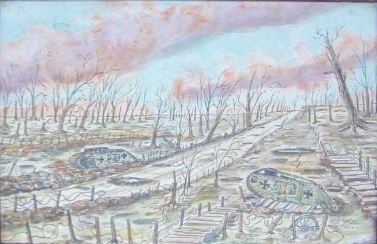 The Trail (1916)
Colourful but yet somehow boring to look at image of a trail. Really not much to look at.
Tank Patrol (1917)
Almost child-like drawing of a German tank on the move in a demolished town. Compared to other work by Hitler such as The Courtyard of the Old Residency in Munich, St. Charles's Church in Vienna (Karlskirche, 1912), Neuschwanstein Castle and even perhaps Standesamt München this work is rather bad, and looks rushed, admittedly he was fighting a war, but still without context it looks bad.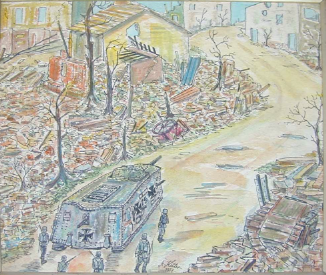 Battlefield Wall (1918)
This painting is in the same vain as 1917's Tank Patrol as in they both look ugly.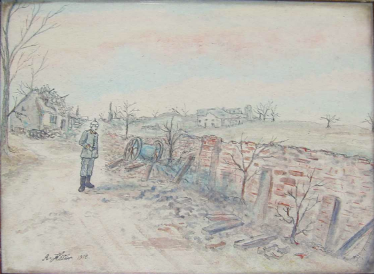 War Torn Town (1918)
A town is seen at its lowest point. 21 years later Hitler would do his best to do much worse to the World.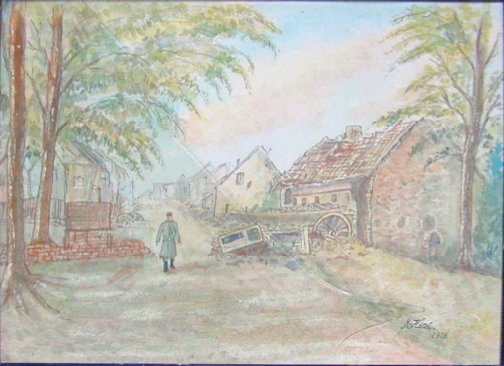 Alter Werderthor Wien (The Werder Gate, c. 1910-12)
Not much is known about this apart from that it's much better than 1917's Tank Patrol - anything is better than that.
According to the now offline Snyder's Treasures;
This painting depicts the Old Waterway in the old section of Vienna. There is a significant amount of cross-hatch shading marking some of Hitler's later Vienna work. The detail is outstanding throughout.

This painting is accompanied by the original Peter Jahn provenance statement of authenticity dated May, 1972, Vienna. Peter Jahn worked for Hitler, relocating his paintings prior to the outbreak of WWII.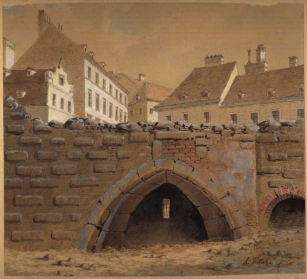 ---
If you have any comments regarding Hitler, Nazism, art, or anything else on this subject, please feel free to E-Mail: owlman@protonmail.com
Also! If you have a painting that is not here, or you have a higher-res photo of an image on this page, please E-Mail it!
References
I. Photo of Art Curator Sarah Forgey showing Army Joseph W. Westphal art by Hitler
https://commons.wikimedia.org/wiki/File:Preserving_and_protecting_Army_history_120530-A-AJ780-005.jpg [Internet Archive, archive.is]
Mirror link: https://archive.org/details/papah
Original link (note that you need to be a member to download the images, so it's best to use the archive.org mirror):
https://www.dvidshub.net/image/593468/preserving-and-protecting-army-history [Internet Archive, archive.is]
II. Ardoyes in Flandern
https://commons.wikimedia.org/wiki/File:Adolf_Hitler_-_Ardoyes_in_Flandern.jpg [Internet Archive, archive.is]
II. House with a White Fence (Haus mit weissem Zaun)
https://commons.wikimedia.org/wiki/File:Adolf_Hitler_-_Haus_mit_weissem_Zaun.jpg [Internet Archive, archive.is]
III. Hofbräuhaus
https://commons.wikimedia.org/wiki/File:Adolf_Hitler_-_Hofbr%C3%A4uhaus.jpg [Internet Archive, archive.is]
IIIB. Muenchen Hofbraeuhaus 665-v2.jpg
https://commons.wikimedia.org/wiki/File:Muenchen_Hofbraeuhaus_665-v2.jpg [Internet Archive, archive.is]
IV. Klosterruine in Messines
https://commons.wikimedia.org/wiki/File:Adolf_Hitler_-_Klosterruine_in_Messines_(Dezember_1914).jpg [Internet Archive, archive.is]
V. Nude woman
https://commons.wikimedia.org/wiki/File:Adolf_Hitler_-_Nude_woman_1.jpg [Internet Archive, archive.is]
http://www.hitler.org/art/nudes/ [Internet Archive, archive.is]
VI. Schloss Belvedere
https://commons.wikimedia.org/wiki/File:Adolf_Hitler_-_Schloss_Belvedere.jpg [Internet Archive, archive.is]
VIB. Schloss Belvedere Wien 2012
https://commons.wikimedia.org/wiki/File:Schloss_Belvedere_Wien_2012.JPG [Internet Archive, archive.is]
VII. Selbstporträt
https://commons.wikimedia.org/wiki/File:Adolf_Hitler_-_Selbstportr%C3%A4t.jpg [Internet Archive, archive.is]
VIIB. http://www.spiegel.de/fotostrecke/photo-gallery-hitler-s-watercolours-to-go-under-the-hammer-fotostrecke-45624-5.html [Internet Archive, archive.is]
VIIC. Toothbrush moustache
https://en.wikipedia.org/wiki/Toothbrush_moustache [Internet Archive, archive.is]
VIII. Standesamt München
https://commons.wikimedia.org/wiki/File:Adolf_Hitler_-_Standesamt_M%C3%BCnchen.jpg [Internet Archive, archive.is]
VIIIB. Kleines rathaus 04.jpg
https://commons.wikimedia.org/wiki/File:Kleines_rathaus_04.jpg [Internet Archive, archive.is]
VIIIC. Watercolor Attributed to Hitler Sells for $161,000
https://artsbeat.blogs.nytimes.com/2014/11/23/watercolor-attributed-to-hitler-sells-for-161000/ [archive.is]
IX. Unterstand in Fournes
https://commons.wikimedia.org/wiki/File:Adolf_Hitler_-_Unterstand_in_Fournes.jpg [Internet Archive, archive.is]
X. Vienna State Opera House
https://commons.wikimedia.org/wiki/File:Adolf_Hitler_-_Wien_Oper.jpg [Internet Archive, archive.is]
XB. Wien Dark Clouds over the Wiener Staatsoper (2473216298).jpg
https://commons.wikimedia.org/wiki/File:Wien_Dark_Clouds_over_the_Wiener_Staatsoper_(2473216298).jpg [Internet Archive, archive.is]
XI. Tree at a Track (Baum am Weg eines Sees)
https://commons.wikimedia.org/wiki/File:Baum_am_Weg_eines_Sees.jpg [Internet Archive, archive.is]
XII. Vase With Flowers (Vase mit Blumen, c. 1912)
https://commons.wikimedia.org/wiki/File:BlueVaseWithFlowers.jpg [Internet Archive, archive.is]
XIIB. Painting by Hitler goes to auction
https://www.theguardian.com/world/2015/mar/24/painting-by-hitler-goes-to-auction [Internet Archive, archive.is]
XIII. House of Dr. Bloch
https://commons.wikimedia.org/wiki/File:Dr-Bloch-house.jpg [Internet Archive, archive.is]
XIIIB. Eduard Bloch
https://en.wikipedia.org/wiki/Eduard_Bloch [Internet Archive, archive.is]
XIV. House by The Lake (Haus am See)
https://commons.wikimedia.org/wiki/File:Hitler_Haus_am_See.jpg [Internet Archive, archive.is]
XV. Mother Mary with the Holy Child Jesus Christ (1913)
https://commons.wikimedia.org/wiki/File:HitlerMaryWithJesus.jpg [Internet Archive, archive.is]
XVB. Nazi artifacts of Christian influence
http://nobeliefs.com/mementoes.htm [Internet Archive, archive.is]
XVC. Religious views of Adolf Hitler
https://en.wikipedia.org/wiki/Religious_views_of_Adolf_Hitler [Internet Archive, archive.is]
XVD. Positive Christianity
https://en.wikipedia.org/wiki/Positive_Christianity [Internet Archive, archive.is]
XVI. "Carnations", "Flowers", "Prague in Fog", "St. Charles's Church in Vienna (pre-1914)", "Fromelles", "Haubourdin" and "City Hall"
http://www.bytwerk.com/gpa/hitlerpaintings.htm [Internet Archive, archive.is]
XVIB. Flowers
https://www.cbsnews.com/pictures/nazi-leader-adolf-hitler-art-up-for-auction/ [Internet Archive, archive.is]
XVIC. PrefeituraHi_002.jpg
https://en.wikipedia.org/wiki/File:PrefeituraHi_002.jpg [Internet Archive, archive.is]
XVII. St. Charles's Church in Vienna
https://www.wikiart.org/en/adolf-hitler/st-charless-church-in-vienna-1912 [Internet Archive, archive.is]
XVIII. The Old Building in Stand of Trees (1909)
https://www.wikiart.org/en/adolf-hitler/the-old-building-in-stand-of-trees-1909# [Internet Archive, archive.is]
XIX. Maritime Nocturno (1913)
https://www.wikiart.org/en/adolf-hitler/maritime-nocturno-1913# [Internet Archive, archive.is]
XIXB. 1913 painting by Adolf Hitler sold online
https://www.emirates247.com/offbeat/1913-painting-by-adolf-hitler-sold-online-2012-01-30-1.440144 [Internet Archive, archive.is]
XXX. Neuschwanstein Castle (Schloss Neuschwanstein, c. 1914)
https://www.wikiart.org/en/adolf-hitler/schloss-neuschwanstein-1914# [Internet Archive, archive.is]
XXXI. Destroyed Tank (1916)
https://www.wikiart.org/en/adolf-hitler/destroyed-tank-1916# [Internet Archive, archive.is]
XXXII. Road to No Man's Land (1916)
https://www.wikiart.org/en/adolf-hitler/road-to-no-man-s-land-1916?# [Internet Archive, archive.is]
XXXIII. Smoking Tank (1916)
https://www.wikiart.org/en/adolf-hitler/smoking-tank-1916?# [Internet Archive, archive.is]
XXXIV. Tank Battleground (1916)
https://www.wikiart.org/en/adolf-hitler/tank-battleground-1916# [Internet Archive, archive.is]
XXXV. The Trail (1916)
https://www.wikiart.org/en/adolf-hitler/the-trail-1916?# [Internet Archive, archive.is]
XXXVI. Tank Patrol (1917)
https://www.wikiart.org/en/adolf-hitler/tank-patrol-1917?# [Internet Archive, archive.is]
XXXVII. Battlefield Wall (1918)
https://www.wikiart.org/en/adolf-hitler/battlefield-wall-1918?# [Internet Archive, archive.is]
XXXVIII. War Torn Town (1918)
https://www.wikiart.org/en/adolf-hitler/war-torn-town-1918# [Internet Archive, archive.is]
XXXIX. Alter Werderthor Wien (19??)
https://www.wikiart.org/en/adolf-hitler/alter-werderthor-wien? [Internet Archive, archive.is]
XL. Snyder's Treasures - Seems to have been down since around New Year's 2018
http://www.snyderstreasures.com/pages/hartworks.htm [Internet Archive, archive.is]
XLI. Neuschwanstein Castle (Schloss Neuschwanstein, c. 1904-1922)
https://www.theguardian.com/world/2015/jun/21/hitlers-art-of-flowers-and-fairytale-castles-sells-for-280000-at-auction [Internet Archive, archive.is]
Written by Clive "James" Python, 04/07/18.
https://owlman.neocities.org/art/hitler/
https://web.archive.org/web/*/https://owlman.neocities.org/art/hitler/*
★