Father Ted
By Clive Python | 14jammar
If a show made about Irish Catholic priests was made today you know it would be shite, you can thank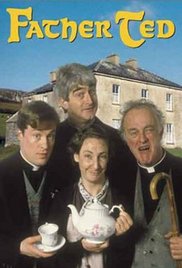 Zalgo that Graham Linehan and Arthur Mathews wrote Father Ted. Irish comedy is hard to come by in Blighty, let alone good comedy. If you've never seen Father Ted, don't shrug it off as a religious show. Only a fool would do that and you're not a fool!
The cast for the show was (and still are) fairly unknown in the world of TV, the cast for the show were
The Late Dermot Morgan; only really known for his role as Father Ted

Ardal O'Hanlon; maybe the most well known, does stand-up, had a 2007 role in Dr. Who

The Late Frank Kelly; first role was an uncredited role as a bobby in The Italian Job

Pauline McLynn; was in Shameless and in EastEnders
The final episode of the show, "Going To America", was going to end with Father Ted joining other priests on a small ledge, preparing to commit suicide by jumping. However, due to the untimely death of Dermot Morgan one day after filming ended, the writers changed it to a happier ending featuring clips from every episode; although they later said that the sadder ending "just didn't work".
---
Written by Clive "James" Python, 28/01/17.
https://owlman.neocities.org/library/ted.html https://web.archive.org/web/*/https://owlman.neocities.org/library/ted.html
★