My idea was to get six great artists together and make a tiny little museum that would be on the moon

- Forrest "Frosty" Myers
The Moon Museum is a small 1.9 cm x 1.3 cm ceramic wafer that contains a mixture of artwork by six iconic artists from the late 1960s that supposedly is on the moon.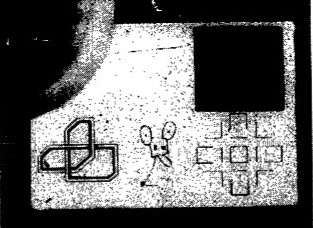 The museum was supposedly attached to one of the legs of the Intrepid landing module and left and after the Apollo 12 moon mission, it was subsequently left there. If indeed the story is true, it means that The Moon Museum is to be considered the first Space Art object. Whether the story is true is hard to tell, as the only way to prove that it really happened would be to send another mission to look for it, saying this, technicians at NASA have in the past admitted to placing personal objects onto Apollo landers, that are hidden under the layers of gold blankets that wrapped parts of the spacecraft which stay on the moon after the astronauts departed.
The idea behind the museum was brainstormed by American sculptor Forrest "Frosty" Myers, who would attempt and fail to get his project greenlit by NASA. He claims that the agency gave him the runaround and, Myers states, "They never said no, I just could not get them to say anything." Instead of getting official permission, he decided that he should take the back route and try to smuggle it on board.
Myers would contact the now-defunct Experiments in Art and Technology (E.A.T.), a non-profit group that was linking artists with engineers to create new works. Via E.A.T., Myers was introduced to some scientists from Bell Laboratories and more specifically electrical engineer Fred Waldhauer. Using techniques normally used to make telephone circuits, the scientists were able to etch drawings Myers had gathered onto small ceramic wafers. Either 16 or 20 wafers were made that day, one going on the lunar lander and the rest that were copies of the original, were handed out to the artists and others involved in the project.
When once again NASA disallowed the wafer to be allowed onto the module, Fred Waldhauer devised another plan. Waldhauer knew a Grumman Aircraft (producer of military and civilian aircraft from 1929 until 1994 when it merged with Northrop Corporation) engineer who was working on the Apollo 12 lander module and he proved willing to place the wafer on the lander.
Myers would ask Waldhauer how he would know whether or not the art was on the lander or not, and was told that he would be sent a telegram from the Grumman worker. On the 12th of November 1969 at 15:35, just less than two days before Apollo 12 would take off, Myers received a telegram at his house from Cape Canaveral, Florida stating;
NH088 1969 NOV 12 AM A NOWEDOO CP PDB CAPE CANAVERAL FLO 11 335p EST FORREST MYERS, DLY 75 (LEAVE UNDER DOOR IF ADSE OUT) 238 PARK AVE SOUTH NYK YOUR ON 'A.O.K. ALL SYSTEMS ARE GO JOHN F (340).
The existence of the art was not revealed until Myers informed The New York Times which ran an article on the story two days after Apollo 12 left the moon and two days before they splashed down in the Pacific Ocean.
Robert Rauschenberg made a single line, David Novros left a black box resembling a piece of circuitry, below that, John Chamberlain's contribution was a template pattern which also resembles circuitry, Claes Oldenburg left a geometric variation of Mickey Mouse that can be seen on the lower middle, Forrest Myers created the work in the lower left, a computer-generated drawing of a "linked symbol" called "Interconnection".
And what did Andy Warhol do? Well, he created a stylized version of his initials which, when viewed at certain angles, can appear as a rocket ship... well, you can be the judge of that...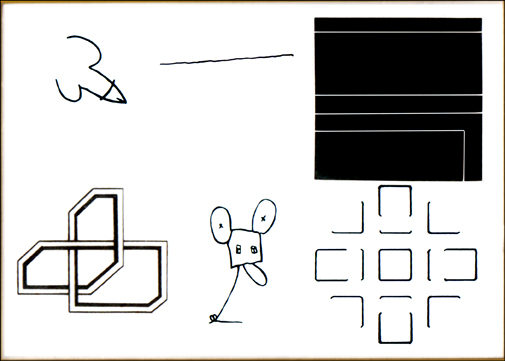 ---
References
I.
The photo of the iron maden
https://en.wikipedia.org/wiki/Moon_Museum [Internet Archive, archive.is]
II.
Fixed Points
https://www.youtube.com/watch?v=csInNn6pfT4 [Internet Archive, archive.is]
III.
Forrest Myers
http://sites.artsblock.ucr.edu/free-enterprise/forrest-myers/ [Internet Archive, archive.is]
IV.
Forrest Myers
https://en.wikipedia.org/wiki/Forrest_Myers [Internet Archive, archive.is]
VI.
Grumman
https://en.wikipedia.org/wiki/Grumman [Internet Archive, archive.is]
VII.
DIY: Moon Museum
http://www.pbs.org/opb/historydetectives/blog/diy-moon-museum/ [Internet Archive, archive.is]
Written by Clive "James" Python, 23/12/17.
https://owlman.neocities.org/library/moonmuseum.html
https://web.archive.org/web/*/https://owlman.neocities.org/library/moonmuseum.html
★