So fucking naive man, so fucking naive.

Always expecting change when I know nothing ever changes.

I've seen mothers choose their man over their own flesh and blood, I've seen others choose alocohol over friendship.

I sacrifice no more for others, part of me has fucking died and I hate this shit.

I'm living every mans nightmare and that single fact alone is kicking my ass, I really must be fucking worthless. This place never changes, it never will. Fuck it all.

- Jeff Weise on his LiveJournal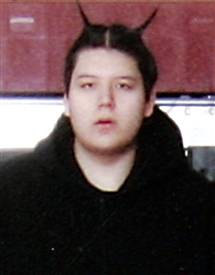 Born on the 8th of August 1988 (8/8/88) Jeffrey James "Jeff" Weise grew up as a bastard child in the city of Minneapolis, Minnesota, to a suicidal father (21-year-old Daryl "Baby Dash" Allen Lussier Jr.) and an abusive alcoholic mother (17-year-old Joanne Elizabeth Weise).
It would seem that Jeff grew up in a nightmarish childhood; after his birth, his mother's parents forced her to give Jeff to his father and his family in Red Lake. At the age of 3, Jeff was reclaimed by the mother and they moved to Minneapolis, where he lived until 1999 in a mobile home behind a pickle factory.
As he grew up his mother dated other men, one of whom were very abusive to Jeff. Shelda Lussier, Jeff's grandmother, stated that Jeff's mother would often lock him out of her house. Her boyfriend would lock Jeff in a closet and force him to kneel in a corner for several hours. On occasion, Jeff's mother would take him up to the Red Lake Reservation to see his father, whom neighbours described as "a real nice guy when he was sober".
In 1992, Joanne Weise began dating a man who allegedly also abused Jeff. After having two children, they got married in 1998.
His father eventually killed himself during a police standoff in 1997.
Jeff Online
Just like others around his age, Jeff used the Internet a lot, he had many online profiles and screen names. Like a lot of names. Some of his names he went by were; "verlassen4_20", "T o t e n k o p f", "Regret", "Blades11", "Todesengel", "Native Nazi", "neonecrosis", "Todesengel" [German for "Angel of Death"], "Syko666"
Online, Jeff was best known on Newgrounds by the name of "Regret" and the lesser known name of "Syko666", he made some alright flash cartoons such as Target Practice, Clown and others that were removed from Newgrounds. Now, to Jeff's credit, the cartoons he made aren't half bad, compared to what crap teenagers shit out today, Jeff's work was - and still is - quite good.
Again, just like Eric Harris, Jeff made his own computer games; The Hitman and Pigeon Hunter, but unlike Eric, the games are somewhat fun to play.
One thing to note about Jeff online is that he had joined some Nazi websites like the now defunct nazi.org, a site calling its self the "Libertarian National Socialist Green Party". Here, Weise made several posts, under the alias "Todesengel", which is German for "Angel of Death". On the site he was quoted saying;
The Natives you've known to be sympathetic to the cause are probably ones who've experienced firsthand what kind of problems cultural and race mixing can cause. As a result of cultural dominance and interracial mixing there are barely any full blooded Natives left. Where I live less than 1% of all the people on the Reservation can speak their own language, and among the youth wanting to be black has run rampant. Under a National Socialist government, things for us would improve vastly... That is, if we haven't already become too soft from the way this materialistic life-style has made us, and that is why I am pro-Nazi. It's hard though, being a Native American National Socialist; people are so misinformed, ignorant, and closed-minded it makes your life a living hell.
One ironic thing about the quote is that it contains 777 characters.
Jeff would also post on AboveTopSecret, on a post he wrote this
Alright, before I get flamed for being a Neo-Nazi white supremecist, I'd like to make the fact that I am a Native American clear. I do not condone the actions of the Third Reich, or any form of Genocide. My people themselves were ethnically cleansed, so I'm not going to raise doubt on the Holocaust or anything like that.
One thing to note about this post is that it's really dumb.
Jeff has other online profiles such as his now partly lost website and a Yahoo! page. Oh yeah, he also had three e-mail addresses; fukrap666@hotmail.com, neonecrosis@hotmail.com and decemberofthesoul@hotmail.com - so why don't you e-mail him and tell him to fix his website?
The End
On the 21 March 2005, Weise killed nine people before killing himself in a murder-suicide. With a .22 caliber pistol, Weise first killed his grandfather and his companion as they lay in bed asleep. Later he shot and killed seven people at Red Lake Senior High School: a security guard, a teacher and five students. He shot and wounded five other students. After briefly exchanging fire with police officers who arrived at the school, Weise was wounded.
He committed suicide using a shotgun.
The extended Lussier family had been involved for years in trying to help him, and arranged for Weise to have care and psychiatric treatment for depression.
Dr. Leslie Lundt, a psychiatrist, has commented that a parent's suicide put individuals at high risk for psychological problems, as does alcohol abuse in the family.
Target(s): Red Lake Senior High School Killed: 9 Injured: 5

List of People Killed # Daryl Allen Lussier, 58, police officer and Jeff Weise's grandfather. # Michelle Leigh Sigana, 31, Lussier's girlfriend. # Derrick Brian Brun, 28, security guard for Red Lake High School. # Neva Jane Wynkoop-Rogers, 62, English teacher. # Alicia White, 15, student. # Thurlene Marie Stillday, 15, student. # Chanelle Rosebear, 15, student. # Chase Albert Lussier, 16, student. # Dewayne Michael Lewis, 15, student. # Jeffrey James "Jeff" Weise, 16, student/perpetrator.

Weapons # Glock 23 .40 caliber pistol # Ruger MK II .22 caliber pistol # Remington 870 12 gauge shotgun
After The End
After the attack, not much has happened surrounding Jeff, on the 26th of March 2005 President George W. Bush gave his condolences to the families, on the 1st of April Newgrounds user Jazza posted the flash video "target practice" W.W.W - a parody of Jeff's Target Practice.
---
References
I. Nazi Site Intrigued Shooter http://articles.latimes.com/2005/mar/23/nation/na-shoot23 [Internet Archive, archive.is, 2]
II. LNSG condemns modern society in school shooting - Internet Archive https://web.archive.org/web/20050328020711/http://www.nazi.org/nazi/policy/weise/ [archive.is]
III. Encyclopedia Dramatica on Jeff Weise [Edit 05/10/17: I see that I'm in the Useful Information part, so kewl] https://encyclopediadramatica.se/Jeff_Weise - Old URL [Internet Archive, archive.is] https://encyclopediadramatica.rs/Jeff_Weise [Internet Archive, archive.is]
IV. Teenage gunman kills nine in US - BBC [Note, the BBC got his age wrong] http://news.bbc.co.uk/1/hi/world/americas/4370617.stm [Internet Archive, archive.is]
Archives of Jeff's Flash Games... https://encyclopediadramatica.rs/Jeff_Weise/Flash https://owlman.neocities.org/library/img/jeffweise/swf/ https://archive.org/details/Syko666
Written by Clive "James" Python, 16/03/17. http://owlman.neocities.org/library/jeffweise.html https://web.archive.org/web/*/https://owlman.neocities.org/library/jeffweise.html
★