The only confirmed time it has ever been played live was the second show on 12th of June 1981, at Knott's Berry Farm.
Because of this, the song is one of Weird Al's most rarest songs. In fact, most of his work pre-1983 is very hard to find, as Al is embarrassed about the early songs he made and has even said in an unknown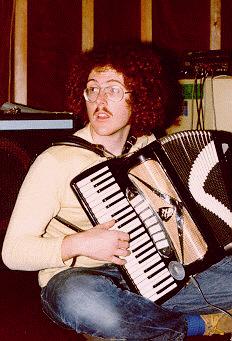 interview he would rather have a naked image of him released on the Internet than have an old song released to the public. A keyboard version of this song was submitted to Dr. Demento, but never aired.
Lyrics:
I remember all the moments when I used to hold you near, I remember the sweet nothings you would whisper in my ear, Whenever we would hold my hand my heart would skip a beat, We were such a happy couple and my life was so complete, But times have changed and now you've left me for some other guy, It seems I'll never get you back no matter how I try, This emptiness inside of me is tearing me apart, I gotta find a way that I can soothe this aching heart

'Cause babe I get so lonely whenever you're not here, You never even call me on the phone, So I'm gonna buy a Hustler and a six pack of beer, And have a little orgy on my own

I can't believe you'd ever go and leave me for that chump, So what if he's a millionaire, and I work in a dump? So what if he makes more in an hour, than I make in a day? He lights his pipes with dollar bills and bathes in Perrier, Well I'm not much into culture, and I don't drive no fancy cars, And I couldn't tell a dirt clod from a plate of caviar, I'd like to meet this friend of yours, so bring him by my place, I'll have a friendly chat with him and stab him in the face

'Cause you know I get so lonely whenever you're not here, You never even call me on the phone, So I'm gonna buy a Hustler and a six pack of beer, And have a little orgy on my own

I can't forget the day you put my love back on the shelf, It was then I knew I had to get a firm grip on myself, For other folks this solitude would be a living Hell, But when times get rough I still can handle myself pretty well, It's hard on me remembering the way that we were then, But when I read my magazines, I feel myself again I must admit, from time to time, my memory still lingers, But the only pain I feel is from the blisters on my fingers

Babe you know I get so lonely whenever you're not here You never even call me on the phone, So I'm gonna buy a Hustler and a six pack of beer, And have a little orgy on my own

Yes I'm gonna buy a Hustler and a six pack of beer And have a little orgy, Have a little orgy, I'll have a little orgy on my own