Ars Doom: Can Computer Games Be Art?
This isn't like most WADs you've probably played. The idea of this WAD was to make a virtual museum for the 1995 Prix Ars Electronica. You start off in a dark room, where you will emerge to find-out that you are in a museum. Explaining what this WAD is all about is very hard, however, the README file in the ZIP does a good job...
An attempt for an artists project using the wellknown doom engine and wellhacked internal formats. No blood-feast! About 20 artists have been invited to exhibit in the virtual museum located in the Brucknerhaus in Linz, where every year an exhibition for the worlds greatest computer art contest, the prix ars electronica is celebrated. So people around the world who cannot come to Linz this time participate at the exhibition in the virtual Brucknerhaus. All the artists are there virtually (at least there heads and projects). Some personally, some computer generated. Max. 4 of them on the net, the other 20 as monsters. And have fun interacting with the different projects, be an artist like Arnulf Rainer, Hermann Nitsch, Baselitz or Nam June Paik.
This project did have its own website at the time, however, the URL (http://xarch.tu-graz.ac.at/~rurban/ars/) now goes to a 404 page. The URL was also not saved at all on The Internet Archive.
Ars Doom running on Crispy Doom version 5.1, with Doom II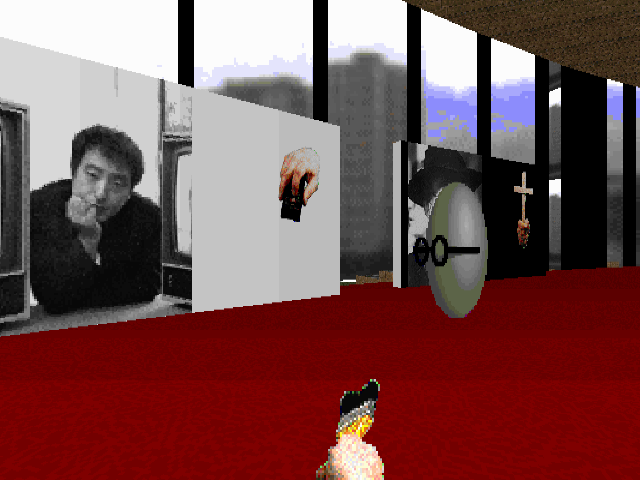 As the README says, this is not a blood-feast map, in fact, all of the monsters have been turned into these weird looking dark-orange ball-things - non of the monsters will be able to harm you. If you do shoot them, then they will wake-up, and roam around the map (much like in normal Doom, but again, they can't harm you).
If you do play any WAD, it should be this one, as it may make you reconsider computer games, and that of the fine arts.
---
References
I. Ars Doom (repackaged edition) - Doomworld/idgames https://www.doomworld.com/idgames/themes/x-rated/i_am_old_enough_to_look_at_this/ars_r
II. Ars Doom - Doomworld/idgames https://www.doomworld.com/idgames/themes/x-rated/i_am_old_enough_to_look_at_this/ars_sml
Written by Clive "James" Python, 06/09/18
★